Simon Coveney, TD
An Tánaiste and Minister for Foreign Affairs & Trade with special responsibility for Brexit

With more than 20 years' experience in politics, working on behalf of the people who elected him at a local, national and European level, Simon has represented the people with hard work and with absolute integrity. He is straight-talking, hardworking and focused on delivering real change on whatever issue he is tackling. He is not afraid of a challenge and is convinced of the power of communities working together with government to improve the quality of life of all our people.
Simon is a positive person by nature and is very ambitious about the type of country we can create if we work together around shared values. His track record shows that he has the drive, the energy and the work ethic to turn good ideas in to real action that can make a positive change in people's lives. Simon is determined we move away from the temptations of short term, populist politics and start planning ambitiously for the next 25 years, not just the next 25 weeks.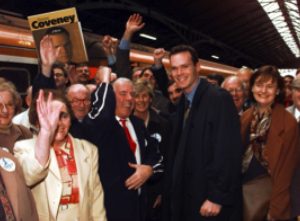 Simon was one of the youngest T.D.s to be elected to the Dail, aged 26, when he won the Cork South Central seat in 1998. In opposition, Simon was spokesperson on Drugs and Youth Affairs before being appointed by the Party Leader to the position of Deputy Chief Whip in 2001. In 2002, he was appointed to the senior Front Bench role of spokesperson on Communications, Marine & Natural Resources.
Simon went on to represent Ireland and the Ireland South constituency in Europe when he was elected to the European Parliament in 2004. He secured the highest first preference vote of any Fine Gael candidate in that election with almost 120,000 first preference votes gathered from across 12 Dáil constituencies. A member of the EPP-Ed group of the European Parliament, Simon was a member of the Foreign Affairs Committee and the Internal Market and Consumer Protection Committee. Simon was the author of the European Parliament's Annual Report on Human Rights in the World for the year 2004 and again for 2006.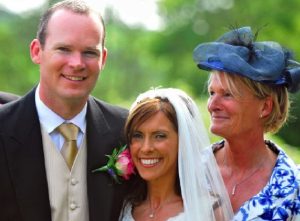 In 2007, Simon returned to Ireland when he was again elected as a T.D. for Cork South Central.
In 2008, Simon married Ruth Furney, and they welcomed their first baby, Beth, in 2009. They now have three girls (Jessica born in 2011 and Anna Lise in 2013).
With Fine Gael in Opposition after the 2007 General Election Simon was Front Bench spokesperson on Energy, Communications and Natural resources from 2007 to 2010. In 2011 he was appointed spokesperson for Transport.
Following the successful elections in 2011, Simon was appointed Minister for Agriculture, Food and the Marine by the Taoiseach with this portfolio expanded to incorporate Defence (July 2014).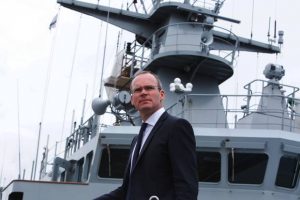 During his term as Minister for Agriculture, Food and Marine, Simon delivered significant and very positive change for the agriculture and food sector. Food exports reached an all-time high of over €9 billion with record employment in the sector. During Ireland's Presidency of the EU Simon Chaired the EU talks to reshape the Common Agricultural Policy (CAP)as well as the Common Fisheries (CFP) Policy. During his term as Minister for Defence, Simon worked very closely with the Irish Naval Service and sought approval from government for the Irish Navy to participate in humanitarian missions in the Mediterranean. During these historic missions, Irish naval officers saved over 10,000 lives. In his term in government, apart from his Ministerial duties, Simon had the unique honour of of being the successful Director of Elections for two high profile referenda.
In 2012, Simon was appointed Director of Elections for the Fiscal Stability Treaty referendum, overseeing the campaign to support the changes at EU level. The Irish people overwhelmingly passed the Treaty with a large majority (60.3%) in May 2012.
In 2015, Simon was again appointed as the Fine Gael Director of Elections for the marriage equality referendum. Simon managed the government's referendum campaign and, along with his FG colleagues, campaigned vigorously for marriage equality and to make Ireland a fairer and more equal society. In May 2015, Ireland made history around the world by becoming the first country to approve same-sex marriage by popular vote (62%).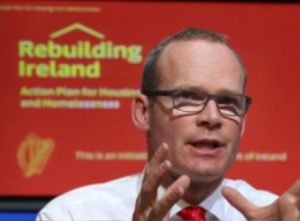 Following the General Election in 2016, Simon co-chaired the successful Programme for Government talks with different Independent groupings and Fianna Fail. On the formation of the new government Simon sought the Housing portfolio, determined to put his energies in to tackling the dire challenges of homelessness and housing shortage. He was appointed by the Taoiseach to the position of Minister for Housing, Planning, Community & Local Government in May 2016. By July 2016, he had launched the Rebuilding Ireland Action Plan, with ambitious targets to tackle homelessness, accelerate social housing, build more new homes, better utilising existing housing stock and improving the rental sector.
In June 2017, Simon was appointed Deputy Leader of Fine Gael, following the resignation of Enda Kenny from the role of Taoiseach and subsequent leadership challenge.  He became Minister for Foreign Affairs & Trade with special responsibility for Brexit in the new cabinet when Leo Varadkar T.D. assumed the role of Taoiseach and Leader of Fine Gael.
On 30 November 2017, Simon was appointed Tánaiste and Minister for Foreign Affairs and Trade with responsibility for Brexit.
Simon Coveney TD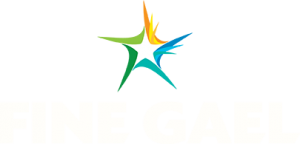 Main Street,
Carrigaline,
Co. Cork.
t: 021 4374200
e: simon.coveney@oir.ie
t: @simoncoveney f: /simoncoveney
THE PARTY
Fine Gael Headquarters Reception & General Enquiries 51 Upper Mount Street Dublin 2 D02 W924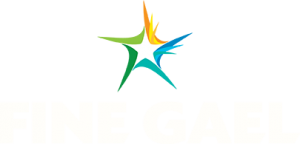 T: 01-6198444 / E: finegael@finegael.ie
SITEMAP
© 2017 Fine Gael. All rights reserved.
Sign up to our Newsletter
*Enter your email address to receive our periodic newsletters. NOTE: By submitting this form, you are providing us with permission to store your personal information and send you relevant periodic emails attaching our Newsletter. View our Privacy Notice for further details. You can opt out at anytime by e mailing simon.coveney@oireachtas.ie  with the words "opt out".